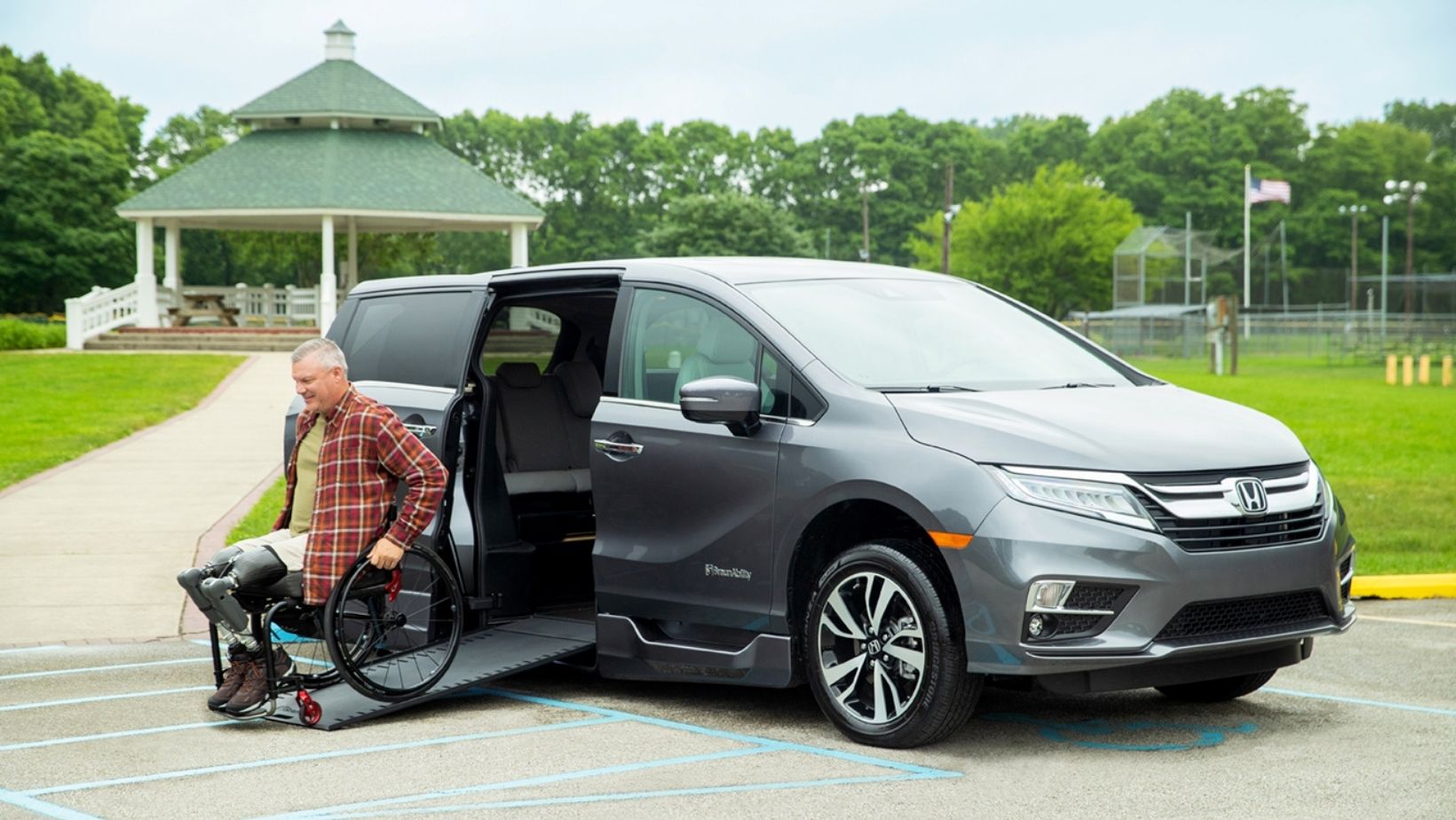 SERVICE PROTECTION
FOR WHEELCHAIR VAN
Although wheelchair vans are built to last, the unexpected can happen. If you're not prepared to pay for sudden repairs, a vehicle service contract from Clock Mobility can give you peace of mind that your vehicle is safe. Vehicle service contract are like insurance policies for your vehicle. They cover mechanical and electronic failures due to normal wear and tear and road hazards.
The best part about a vehicle service contract is that it gives you the flexibility to choose the plan that best fits your specific needs. You can choose which components you want to be covered (engine, transmission, electrical system, etc.) and for how long you want that coverage. We have partnered with the best vehicle service contract provider in the United States to offer you exceptional coverage on your mobility equipment.
WHEELCHAIR VAN SERVICE PLAN
FOR NEW VEHICLES
BRAUNABILITY PROTECTION PLUS
If something goes wrong with a new wheelchair van, it is typically covered by the manufacturer's warranty, and you do not have to pay anything for repairs or parts. However, that warranty expires after a set amount of time and miles driven.
When the original warranty ends, all future repairs and parts are paid out-of-pocket unless you purchase a vehicle service contract (VSC). A VSC from BraunAbility may be able to prevent you from needing to pay thousands of dollars in unexpected repair costs on your wheelchair-accessible van. BraunAbility Protection Plus offers different types of financing, including mobility equipment financing, application to contract under an hour, Guaranteed Asset Protection, and VSC, so you can easily pick one that fits your budget and needs. There are no hidden charges and zero interest rates on monthly payments, so it's a win-win situation.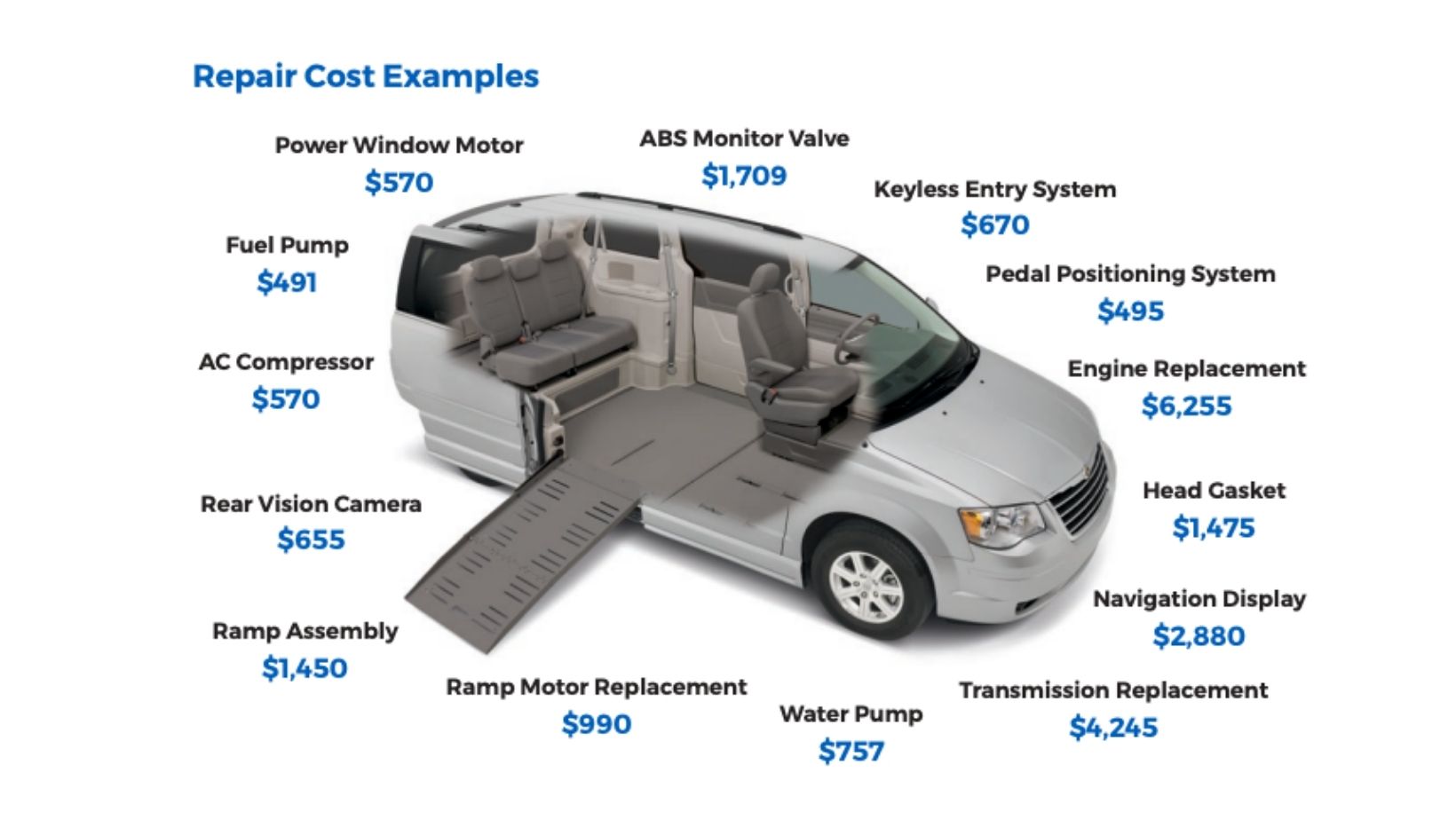 TYPES OF COVERAGE
BraunAbility Protection Plus offers the following two types of coverage for wheelchair-accessible vehicles:
COMPLETE COVERAGE
The Complete Coverage Plan covers all parts and labor costs associated with the repair or replacement of mechanical breakdowns that occur on your wheelchair-accessible vehicle. It offers mobility equipment coverage, including fuel pumps, power window motor, ramp assembly, pedal positioning system, and more. It is available for vehicles 10 model years and new vehicles under 100,000 miles.
POWERTRAIN COVERAGE
The Powertrain Coverage Plan covers all of the major components in the engine, transmission, and drive axle. They make sure that you're protected from bumper to bumper on most essential parts of your vehicle, including seals and gaskets. If you feel like tires are wearing unevenly, or if something just doesn't seem quite right with your advanced mobility equipment, they'll fix it without burning a big hole in your pocket. Since it is a luxury plan, it is available for all vehicles 20 model years and newer under 190,000 miles.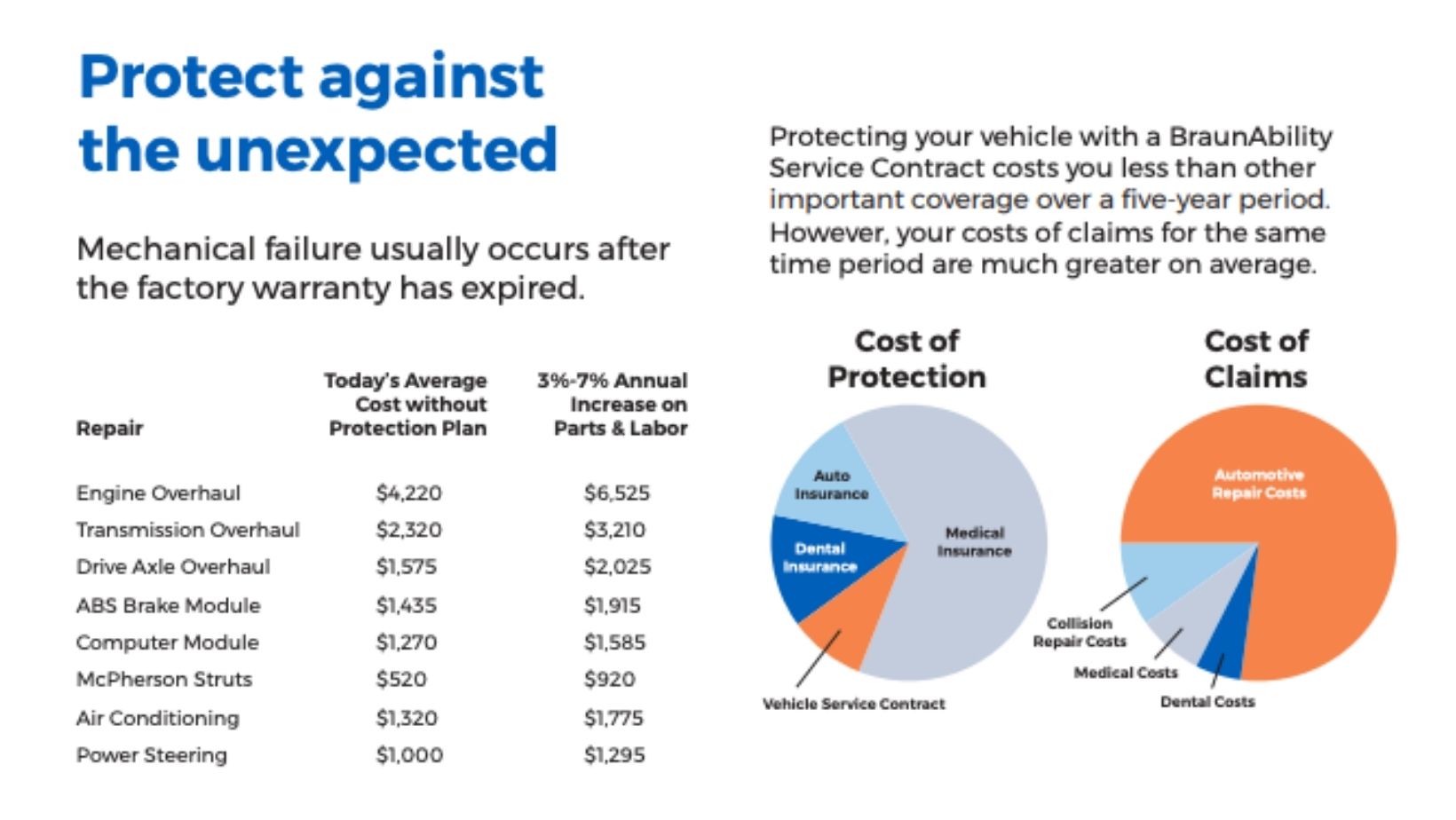 OTHER BENEFITS OF
BRAUNABILITY PROTECTION PLAN
Along with their different coverage plans, you gain several additional benefits:
Mobility equipment coverage beyond the original warranty

Towing and roadside assistance for 24hr a day,365 days a year

Mobility rental coverage

Road hazard wheel and tire coverage

24hr access to claim experts for quick and hassle-free reimbursements.
Protect your vehicle from the most common expenses that can occur during ownership.
By servicing your vehicle at one of our authorized repair facilities, the cost of repair is paid directly by CAREGUARD, saving you the hassle and out of pocket expenses.
Zero hassle, Zero deductible!
24 HOURS ROADSIDE 
SERVICES
The biggest perk of having BraunAbility Protection Plan is their 24-hour roadside services that include:
Towing assistance up to $50 per occurrence

Flat tire change, battery jump starts, and out-of-gas delivery assistance

Lockout service, emergency fluids, and supplies delivery assistance

Additional coverage of $75 per day for up to 3 days for lodging and restaurant expenses if the vehicle breaks down more than 100 miles away from home.

Rental vehicle reimbursement of up to $50 per day for up to 5 days when your car is being repaired.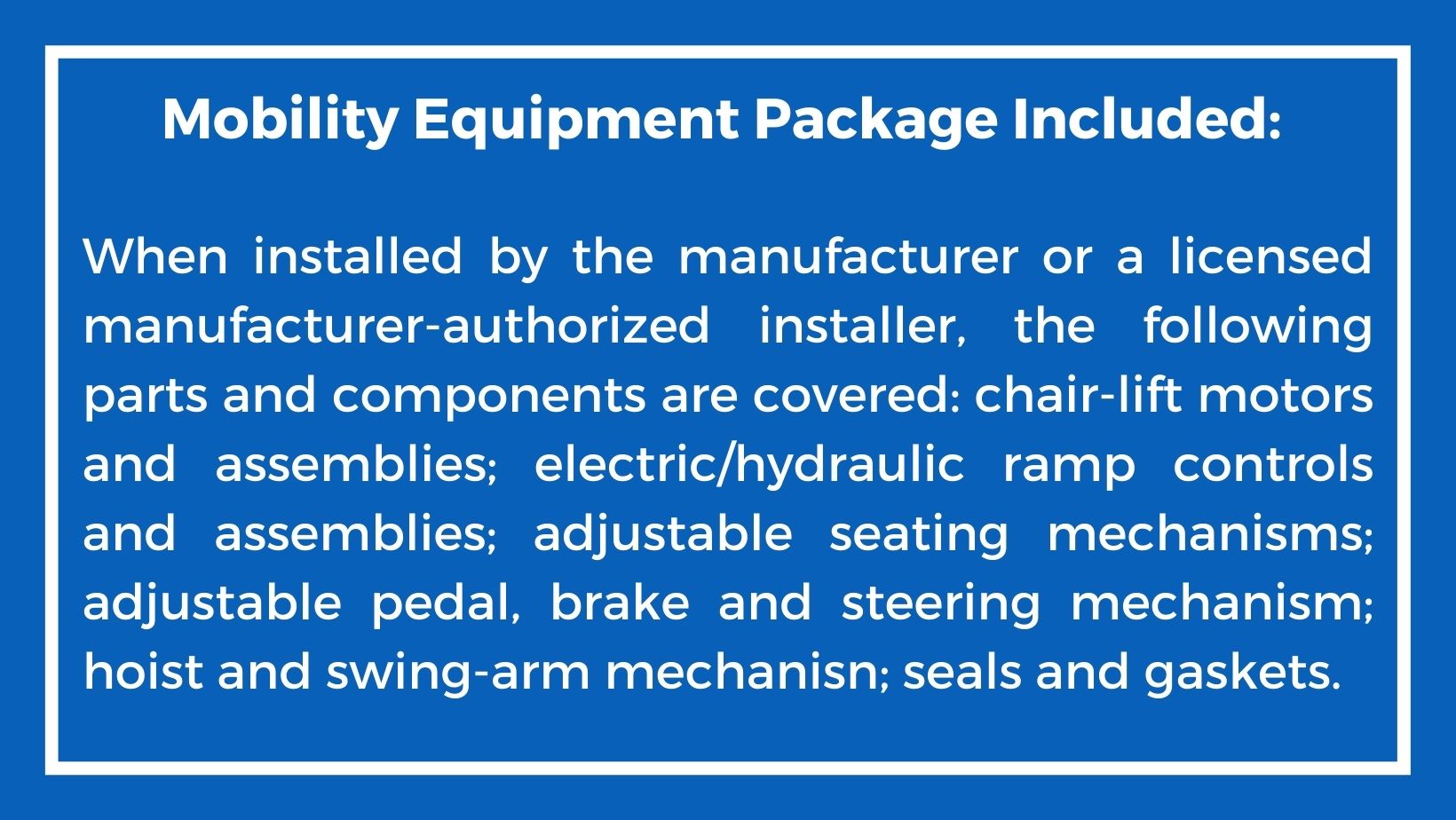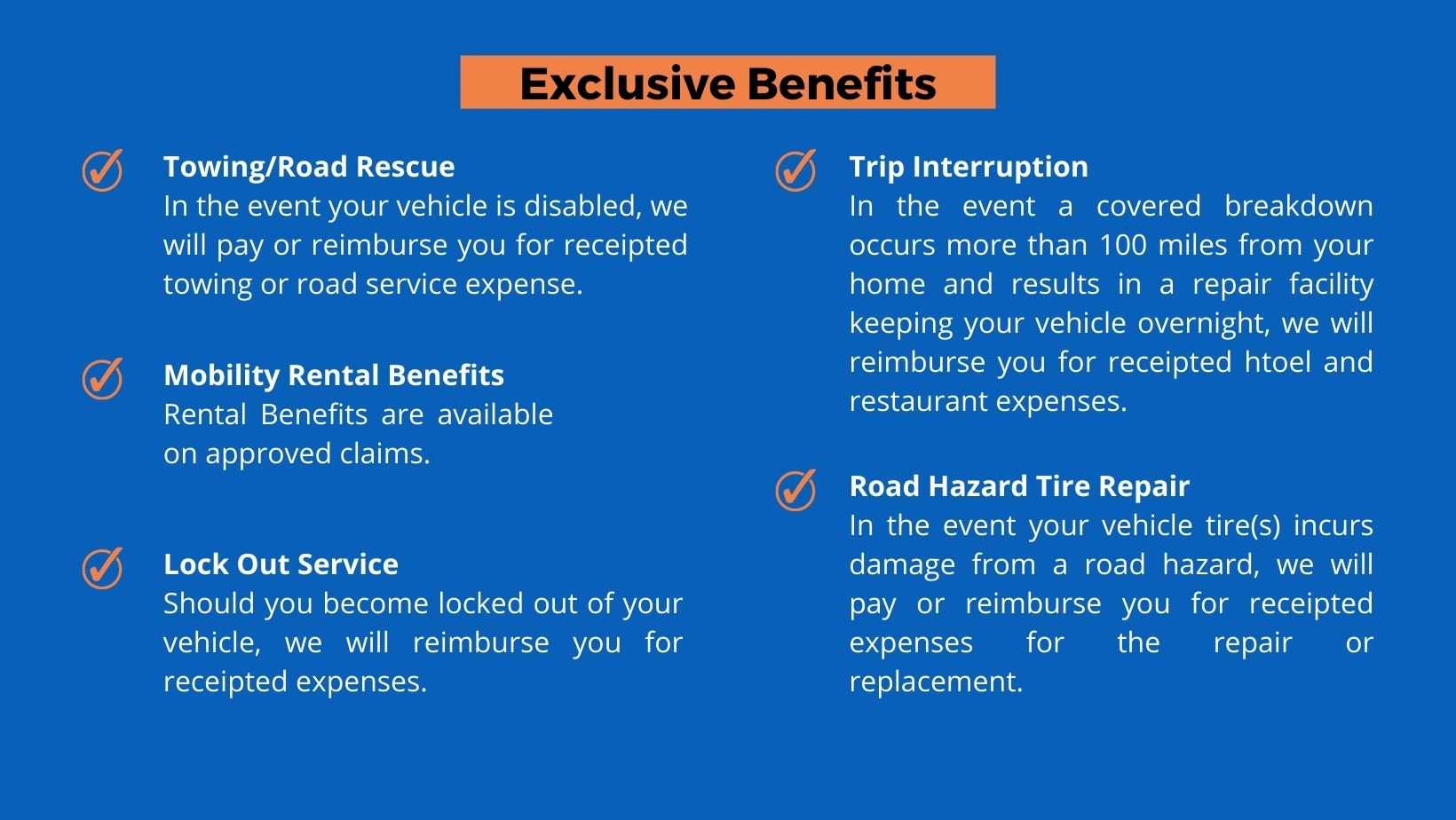 PROTECT YOUR INVESTMENT. ENJOY THE PEACE OF MIND YOU DESERVE.
If you've purchased a wheelchair accessible vehicle, wrap your investment with the security of BraunAbility Protection Plus. This extensive protection covers the cost to repair or replace most breakdowns and related expenses, including:
Mobility coverage beyond original warranty

Towing and roadside assistance 24 hr/365 days a year

Mobility vehicle rental coverage

Road hazard tire coverage

Access to claims experts at any time
FAST, FRIENDLY, SERVICE COMMITTED TO FINDING FINANCING THAT FITS YOUR BUDGET!
Accessible vehicle financing

Mobility equipment financing

Application-to-contract in under an hour

Assistance with application and contracting process

Same-day-contracting

Vehicle Service Contract (VSC) available

Guaranteed Asset Protection (GAP) available
WHEELCHAIR VAN SERVICE PLAN
FOR NEW + USED VEHICLES
ULTRAGARD PROTECTION PLAN
The UltraGard Protection Plan is a customized plan that provides you peace of mind knowing you never have to pay for the cost of repairs on your vehicle due to mechanical failure or breakdown. They offer round-the-clock, toll-free mobility roadside assistance in case of any emergency, so you receive maximum protection at a low price. Their package includes:
Tire and wheel replacement coverage

Windshield repair coverage if your front windshield is hit by propelled rocks and debris on public roads, streets, and highways.

Paintless dent repairs without harming the vehicle's factory finish

Vehicle key and fob coverage

Roadside Assistance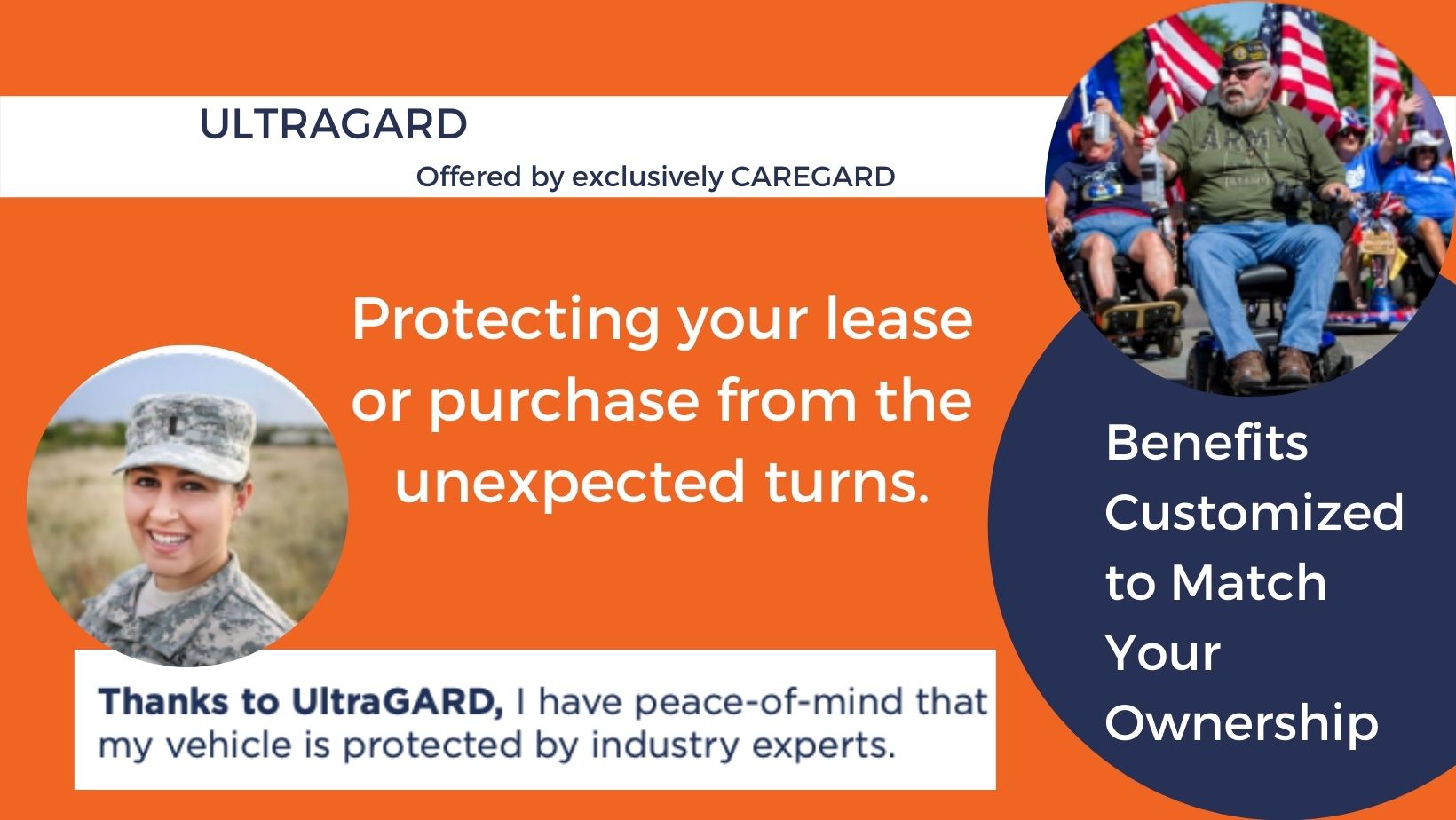 What is a vehicle service contract?
A vehicle service contract is an extended plan that provides repair coverage for your vehicle after the manufacturer's car warranty expires. If you rely on a wheelchair van as your primary mode of transportation, and extended service plan ensures the long-term health of your vehicle. The types of coverage vary depending on the provider you choose, but they generally cover mechanical breakdowns.
Do wheelchair vans come with a warranty?
Wheelchair vans are often seen as a significant investment, and it's essential to ensure that you're getting the best value for your money. For many people, a warranty is an indicator of the quality of their purchase. With BraunAbility wheelchair extended service plans, you can feel confident in your purchase because all of their new vehicles come with industry-leading warranty agreements. They offer a 3-year/36,000-mile warranty that covers defects in workmanship or material.
BraunAbility's Finance Team has more than 100 years of experience combined, and their teams have highly trained and certified technicians, so you can completely rely on their services. For more information on our extended service plans, call customer support today at (866) 380-3308 or stop in to speak with one of our sales professionals.
Does my used wheelchair van qualify for a protection plan?
It's very likely your vehicle qualifies for protection. Seek the peace of mind that comes from knowing future qualifying expenses will be covered. Go to: ProtectNow Eligibility
Or use this QR code if you're on a mobile device: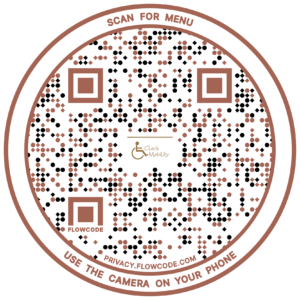 Have Questions? Contact Us Today
When it comes to protecting your investment, our experts can help.
Whether you're buying a vehicle or have one and want to protect against future unexpected costs, we can help. Use the contact form below to begin.
Have Questions? Call Today.