Every person has different preferences for what car they drive. Others may need certain types of vehicles for different lifestyles and careers. Regardless, hundreds of people around the world find that pickup trucks offer the perfect balance of comfort, utility, and style.
If you use a wheelchair or scooter, you've probably heard of wheelchair-accessible minivans, but did you know that your favorite truck may be able to be converted to accommodate your mobility device? See below to learn more about what a wheelchair truck conversion entails, which types of wheelchair truck conversions exist, and how Clock Mobility can help you find the right accessible pickup truck for you.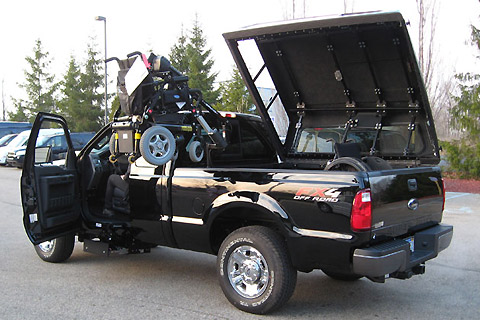 WHAT IS A WHEELCHAIR
TRUCK CONVERSION?
There are generally two ways to convert a truck to offer easier access to wheelchair users. The first way to modify a truck to be wheelchair-accessible is by adding a swivel seat, like the Braun Turny Seat, in the driver's seat position as well as a lift, such as AccessATop, that can store your wheelchair in your truck bed.
The second way to make a pickup truck wheelchair accessible is by modifying the truck such that the driver's side is able to slide out, lower down, and pick both you and your wheelchair up before moving you back into the driver's position. This type of modification is more complex but may be a better fit for wheelchair users who don't want to transfer out of their chairs every time they wish to drive.
Many trucks, GM, Ford, Dodge, and Toyota pickups, to name a few, are capable of being converted for your wheelchair. The customization and adaptability of truck conversions are what make the conversion process so versatile and especially suited to meet your specific needs.
CHOOSING THE RIGHT WHEELCHAIR
TRUCK CONVERSION
With all of the different ways to convert a truck to be wheelchair accessible, it's important for you to pick the right one to fit your needs. Each conversion is different for each user. For some, a lift may be easier to use, while others may prefer to transfer into a car seat and take their wheelchair wherever they go. The most important thing to consider, however, is what kind of wheelchair you'll be using with your pickup truck conversion. Factors like wheelchair size, shape, and weight play a big role in determining which accessible truck conversion is right for you.

BENEFITS OF WHEELCHAIR
TRUCK CONVERSION
There are many benefits of converting your truck for wheelchair accessibility. For example, the ability to use the lift on your own to get in and out of your truck offers a much greater sense of independence. With this freedom, you can enjoy taking long trips on your own since you know you'll have your own reliable and flexible transportation to get you and your mobility device to your destination. 
Trucks are often more durable than vans, which can be important for people who need a vehicle that can withstand the wear and tear of everyday use. Trucks also typically have more towing capacity than vans, which can be helpful for people who need to tow a trailer or boat. A truck's versatility also means it can be used for both personal and work purposes.
With an accessible truck, you can do something as simple as meeting up with friends for a coffee, or you can take advantage of its off-road capabilities by taking it out to explore the wilderness. A wheelchair truck conversion can bring you one step closer to the activities you want to do, when you want to do them and offer a new sense of independence.
WHEELCHAIR TRUCK CONVERSION
COST
Cost is one thing you'll need to consider when looking at your options for wheelchair-accessible truck conversions. If you already own a truck, it is important to consider whether a conversion will be possible for your specific truck. If you don't already own a truck, it will be necessary to select one that you know will be compatible with your chosen conversion type. 
With so many options between trucks and conversion kits, it's best that you consult with experienced mobility specialists or conversion experts to ensure a safe and effective conversion process. That's why we recommend speaking with a member of our team here at Clock Mobility.
With the help of products like AccessATop and the Braun Turny Seat,  the team at Clock Mobility can consult with you about how to best convert one of today's top-selling trucks from Toyota, Dodge, Chevy, or Ford into the wheelchair-accessible vehicle of your dreams. AccessATop is perfect for automating every step of your in and out process and keeps your wheelchair or scooter safe from weather and theft, while the Turny Seat from Braun allows you to transfer seamlessly from your truck seat to your wheelchair and vice versa.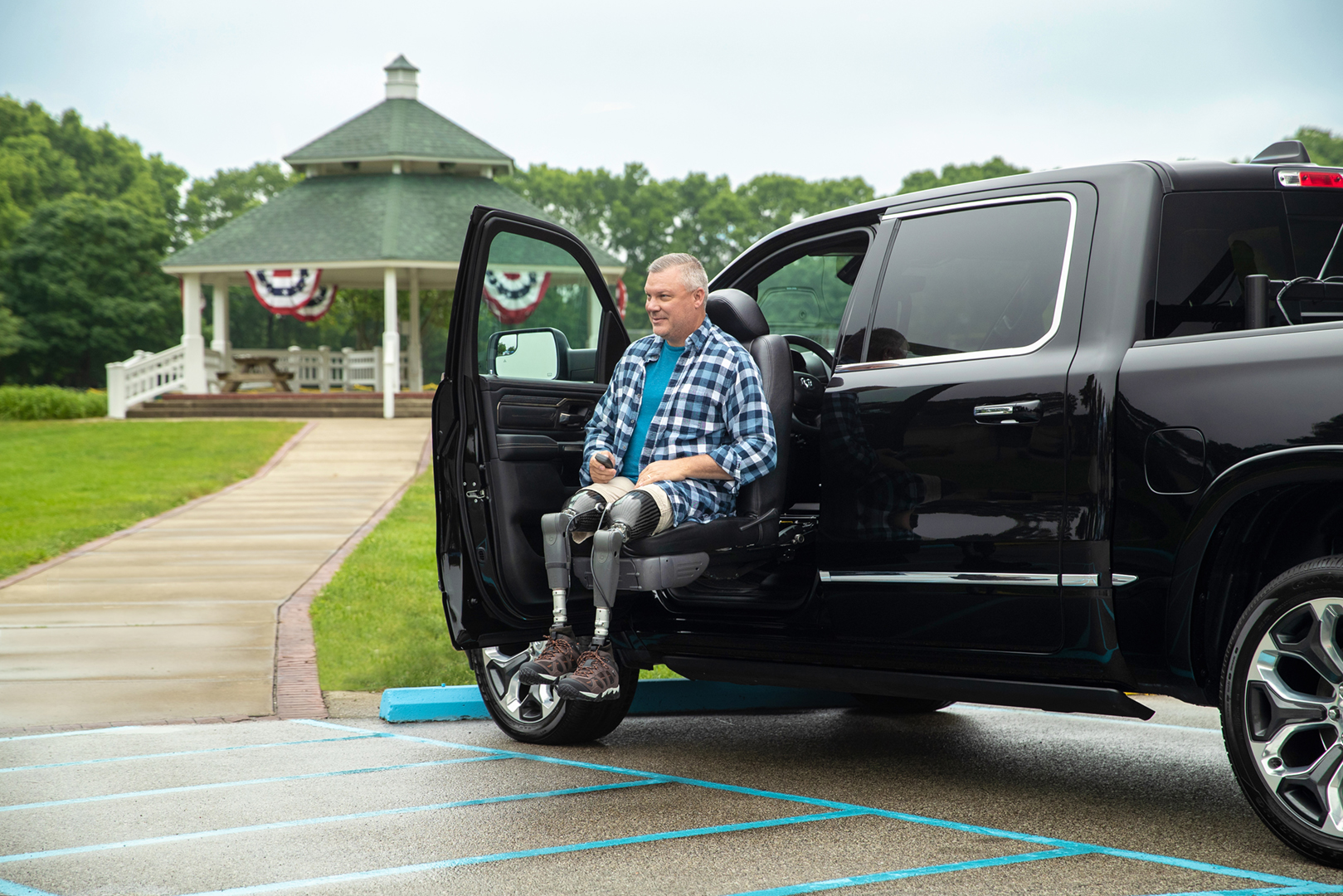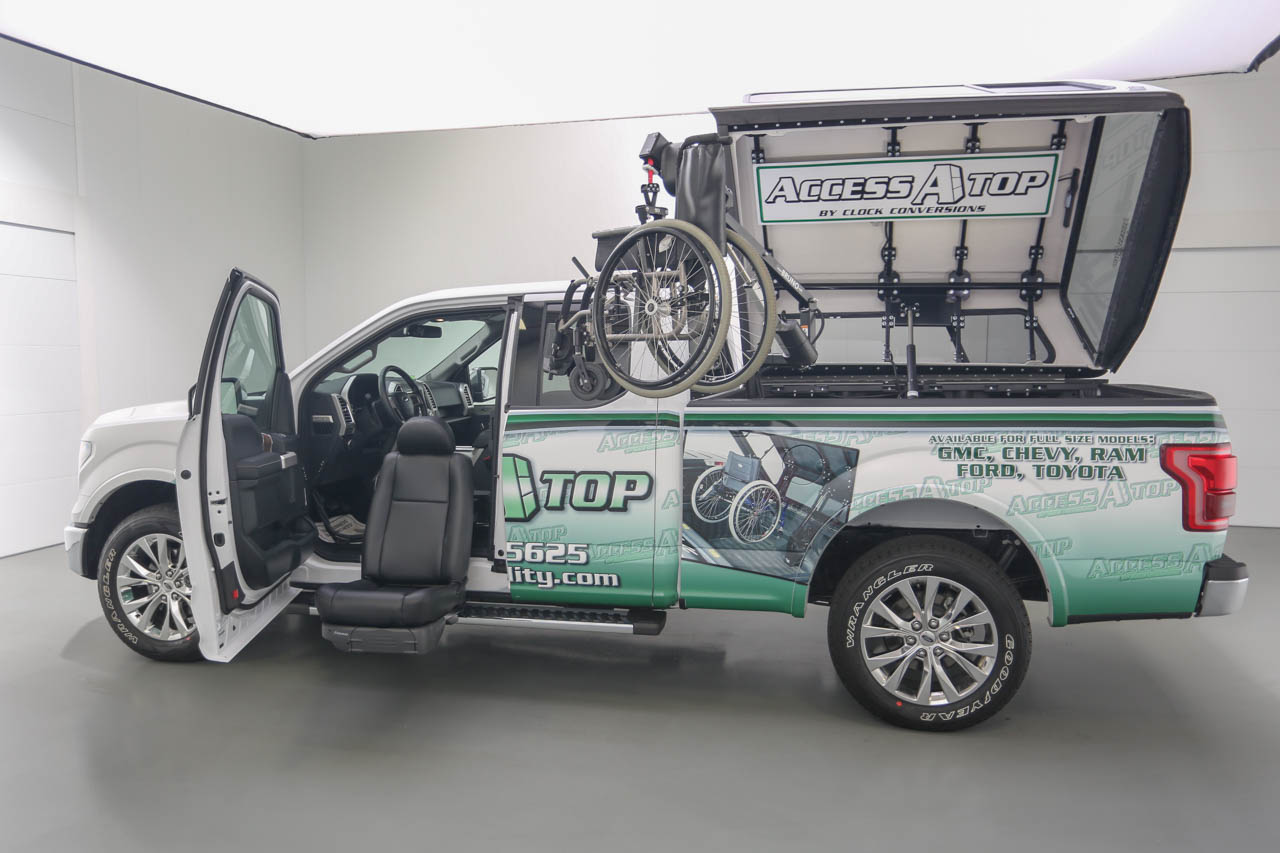 MAINTENANCE AND SAFETY TIPS FOR
WHEELCHAIR ACCESSIBLE TRUCK
With any vehicle comes the task of performing regular maintenance. It's important that you consider what kind of maintenance your truck of choice may require. Along with vehicle maintenance, you will also have to maintain the mechanics of the wheelchair conversion, whether that be the wheelchair lift, the AcessATop, or the Turney seat. The service experts at Clock Mobility are highly skilled in maintaining these kinds of machines and are always ready to assist you. It is important to use every mechanical aspect of your wheelchair-accessible truck as intended by the safety standards outlined by the manufacturer(s). Doing this, along with scheduling regular service appointments, will ensure that you stay safe and that your equipment remains in top working order.
PURCHASING  A WHEELCHAIR-ACCESSIBLE TRUCKS CONVERSION FROM
CLOCK MOBILITY
Trucks offer a number of benefits for wheelchair users, including more cargo space, higher ground clearance, and easy access. Owning a wheelchair-accessible truck may be just what you need to live your ideal lifestyle. Whether you want to drive something other than a van, need the ability to tow a trailer, or just want to be able to go off-roading at a moment's notice, we can help you make your truck conversion a seamless process. Visit one of our four Clock Mobility locations to plan your truck wheelchair conversion today.
HOURS OF OPERATION
| | |
| --- | --- |
| SUNDAY | CLOSED |
| MONDAY | 8:00 AM – 5.00 PM |
| TUESDAY | 8:00 AM – 5.00 PM |
| WEDNESDAY | 8:00 AM – 5.00 PM |
| THURSDAY | 8:00 AM – 5.00 PM |
| FRIDAY | 8:00 AM – 5.00 PM |
| SATURDAY | CLOSED |
Have Questions? Call Today.