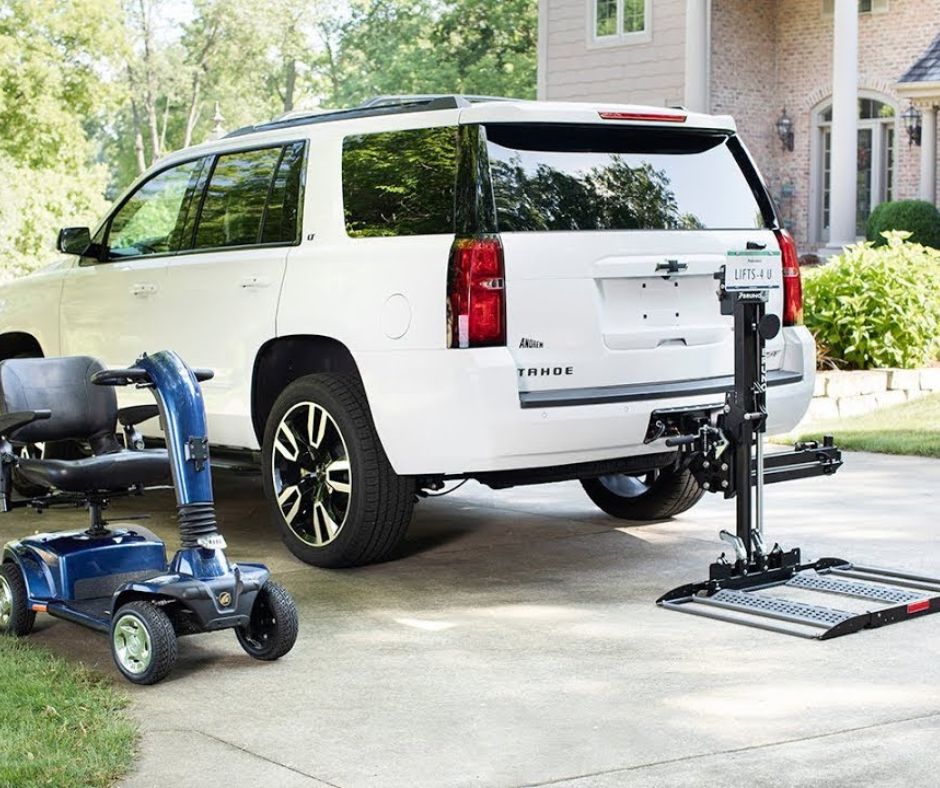 With all of the advancements in the automotive industry, it has become easier for people with mobility devices to travel without leaving behind their wheelchairs or scooters. There are many types of adaptive equipment available on the market to modify your vehicle, but one item that makes moving your scooter easier than ever: the scooter lift.
Scooter lifts can be installed in the cargo area of your vehicle, on your tow hitch, or even in the back of a pickup truck bed. They're designed to help you easily load your scooter into your vehicle and unload it once you get to your destination. From hitch-mounted lifts to hybrid models, several types of scooter lifts are available, so it is important to understand what each one offers before making a purchase. 
Outside Scooter Lifts
If you have limited cargo space, then an outside scooter lift may be perfect for you. Equipped with a wide platform, this type of lift attaches directly to the rear of your vehicle, allowing you to transport your mobility scooter easily. 
Outside scooter lifts can be manual or powered. They have an exceptionally high weight capacity of 500 lbs. which makes them perfect for power chairs, scooters, and folding wheelchairs. These lifts come in a universal design and that fits nearly all types of vehicles including sedans, trucks, SUVs, and crossovers.
Inside Scooter Lifts
Often attached to the cargo area of your vehicle, a hoist-style scooter lift is a great choice for those who need a compact scooter lift that can be installed easily. These scooter lifts come equipped with a motorized winch system attached to a metal frame that hooks onto the back of the scooter to load it inside your car. These lifts also make it easy to position your scooter inside the cargo area so that you don't have to worry about it obstructing your view when driving or parking.
Hybrid Scooter Lifts
Hybrid scooter lifts combine the best components of inside and outside scooter lifts, making them extremely convenient. These scooter lifts utilize hydraulics or electronic motors and an articulating arm to lift your scooter or power chair off the ground. However, unlike outside lifts, these scooter lifts are secured to the cargo area of your vehicle or van. The best thing about these scooter lifts is that they come equipped with Q'straints or padded hold-down-arms to secure your mobility aid in place while providing maximum protection from the elements during transit. Just like other scooter lifts, they also require professional installation to accommodate your mobility scooter or powerchair.  
Like what you're reading? Subscribe to our newsletter and get new updates directly to your inbox.
Tips To Choose a High-Quality Scooter Lift
Now that you've got an idea of the different types of scooter lifts available, the next step is to find a lift that's compatible with both your vehicle and the weight and size of your mobility device. Here are some tips to assist you with the selection process:
It's imperative to pick a scooter lift that has been designed with safety in mind. Some must-have safety features include a non-skid platform, secure locking mechanism, constant pressure controls, under-platform obstruction sensors, an emergency brake system, and an auto folding ramp. 

The lifting capacity of your scooter lift should match the weight capacity of your scooter or powerchair. If you're unsure about the weight capacity, aim for a lift that can safely support at least 500 to 800 pounds.

Scooter lifts come in many different sizes, so make sure you choose one that will fit inside your car without taking up too much space. Keep in mind that the larger the size of your scooter lift, the more expensive it will be — but there are plenty of options out there that won't break your budget!
Upgrade Your Vehicle With Clock Mobility
Clock Mobility is the name you can trust when it comes to vehicle modification. Whether you own an SUV or a minivan, we can assist you in choosing the right mobility scooter lift for you by taking into account the make and model of your vehicle as well as the size and weight of your scooter
Once you've chosen the right model for your needs, our expert technicians will take over the installation process and ensure your scooter lift is properly secured so you can enjoy a safe and comfortable ride. 
In addition to installation, we also offer lift maintenance services, so if your lift is starting to show signs of wear and tear, we'll be happy to diagnose the problem. Contact us today for a consultation or visit our showroom to see all of our adaptive equipment and wheelchair lifts in action.
OTHER ARTICLES YOU MIGHT BE INTERESTED IN
Top Accessible Christmas Activities in Michigan
'Tis the season to be jolly! With Christmas just around...
Read More