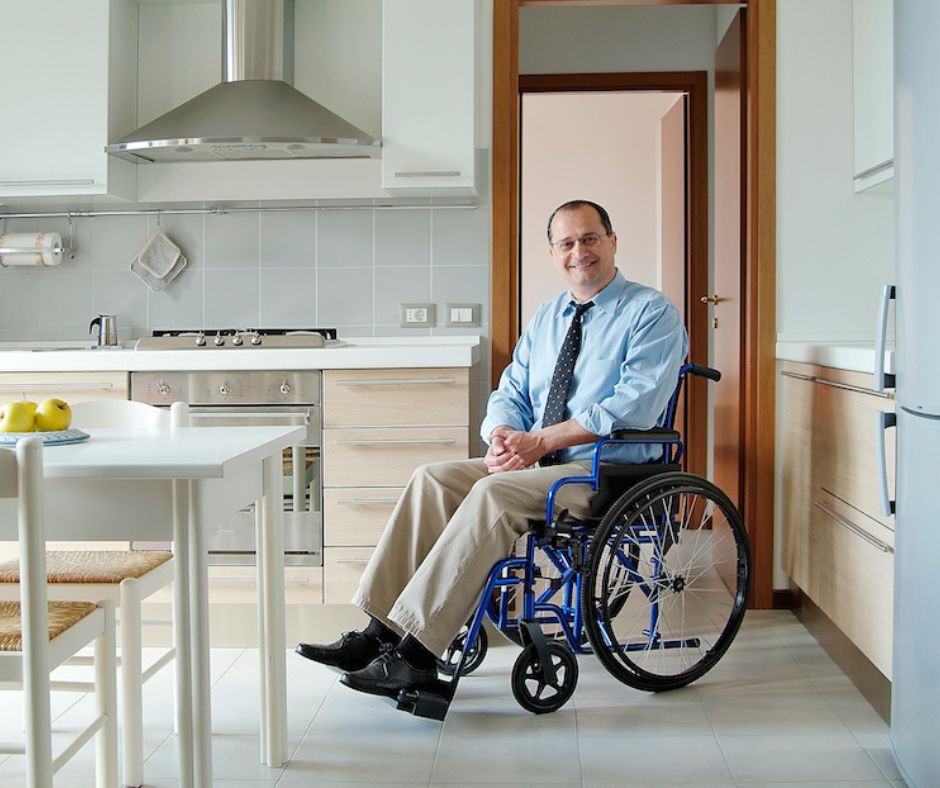 Some people with limited mobility have difficulty using the stairs, navigating bathrooms, or getting through doorways with ease. Between the fear of falling and risk of injury, it's a good idea to optimize your home for maximum accessibility. The good news is you can make your house accessible and anxiety-free by taking a few simple steps.
1. Replace Stairs With Ramps and Lifts
Installing ramps on outdoor curbs and stairs should be one of your first steps in making your home accessible. Depending on your requirements, you can select from a variety of options, like collapsible ramps for convenient storage or portable ramps that can instantly turn any step into a wheelchair-accessible doorway.
If your house has more stairs than a ramp can handle, you may need to add a residential stairlift instead. With the flip of a button, these automatic stairlifts can whisk you safely and swiftly up and down stairs and eliminate the risk of tripping and falling.
2. Widen Doorways
One of the largest obstacles to accessibility in a home can be space. Did you know that typical home doors are 23 to 30 inches wide, which is insufficient for most wheelchairs?
Consider making your entrances wider to accommodate the extra width of a wheelchair or walker and make your home more accessible. Ideally, the doors must be at least 32 inches wide (48 inches maximum) to facilitate wheelchair traffic, but 36 inches is optimal for comfortable navigation.
3. Add Handrails
If you're able to use stairs but would like some extra support, installing handrails on either side of the staircase could be the perfect solution. Handrails can make it easier to use  By offering support on both sides. Handrails can also be added to places like kitchens and bathrooms to offer extra support when standing and sitting.
4. Update Your Flooring
It's crucial to maintain a clear floor area to reduce the chances of tripping, falling, or restricting wheelchair movement. Carpets and rugs that are too thick are not suitable for wheelchairs, scooters, or walkers. Changing your flooring is a relatively inexpensive home improvement that can be completed quickly and has a significant impact on accessibility.
The best bet is wood flooring since it offers a hard, smooth surface that is easy for walkers and wheelchairs to traverse. Additionally, hardwood floors are considerably easier to maintain, especially during the cold Michigan winter when wheelchair tires are prone to getting muddy and wet. 
5. Remove Bathroom Barriers
If you're in a wheelchair, it can be tricky to go to the toilet, take a shower, or do other essential personal care without the help of an accessible bathroom
Here are five ways to make your bathroom more wheelchair-friendly:
Install a sink with an open space underneath so that you can roll up to the sink and reach the basin without leaving your chair. 

If you have difficulty bending over or standing up and sitting down, a toilet riser can make going to the bathroom much easier.

Add grab bars around the shower and the toilet. Grab bars can help prevent slips and falls on wet floors and make it easier to maintain your balance. Similarly, grab bars near the toilet can also provide additional support while sitting and standing up. 

Ditch bathtubs and convert the space to a roll-in shower to minimize the risk of trips and slips. These level-access showers  Make it easy to walk or roll into the shower without stumbling over a bathtub wall.

If you or your loved one cannot stand for long periods of time, install a fold-down shower chair for waterproof seating. A fold-down chair is a more stable option than a free-standing chair that might tip, and it can be easily stowed away when you're done using it.
Like What you're reading? Subscribe to our Newsletter and get new updates directly to your inbox
6. Change Your Doorknobs
When using a wheelchair, doorknobs can be challenging, especially if you have trouble gripping things. To improve accessibility, think about switching to push-pull bars or lever handles from knobs. You should also consider relocating your door's locks to make them easier to access from a wheelchair or scooter.
7. Make Your Kitchen Accessible
Chances are, the kitchen is the gathering place of your home. It is where food is cooked and consumed, and it's where family members meet and talk. That's why it's crucial that everyone in the family can enter the kitchen and enjoy quality time together, regardless of whether they use a mobility device or not.
If you're able to, converting your home to include an accessible kitchen with lowered counters and adaptive appliances is a terrific method that can also make it easier to cook and move about a kitchen with ease.
8. Rearrange Your Furniture
When you use a mobility device, furniture can get in the way and make it harder to get around the house. But by mindfully arranging the furniture, you can considerably enhance the accessibility of your home. 
Most wheelchairs require a five-foot turning radius to operate safely. When rearranging the furniture, make sure that the placement of your furniture leaves at least this much room to provide a clear path for wheelchair/scooter travel. It's also a good idea to reduce the number of sharp edges that a wheelchair or walker user would need to navigate around.
9. Install Two-Way Light Switches
Two-way switches are practical and improve safety, which makes them the ideal addition for making your home more accessible. With two-way switches, you won't have to travel across an entire room just to turn the lights on and off. By having a switch located in multiple places in a room, one by the bed and one by the door, for example, you or your loved one can operate the lights without having to move around as much.
10. Lower the Closet Rods
Standard closet rods are usually located at least five feet off the ground, making them very tricky to reach from a wheelchair or while holding a walker. Fortunately, the solution is as simple as lowering your curtain rods so that they are three to four feet above the ground, allowing you to hang and retrieve clothes easily.
Making your home accessible can be time-consuming, but it's well worth it when you consider how much safer and more comfortable it will make you and your loved ones. The experts at Clock Mobility are always available to provide you with guidance on the finest home-accessible options, including residential stairlifts, temporary ramps, and portable ramps. Get in touch with us today or visit one of our four Michigan showrooms for more info.
OTHER ARTICLES YOU MIGHT BE INTERESTED IN