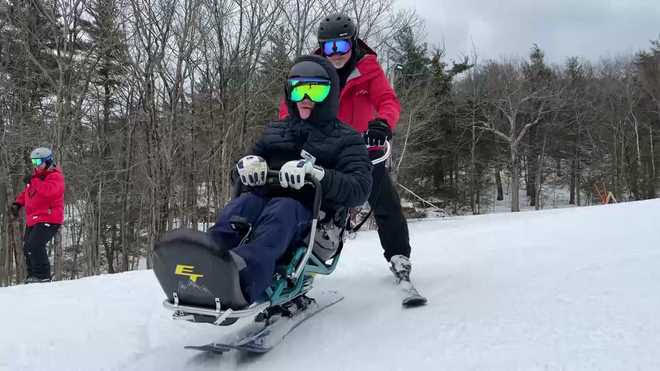 Michigan, a state famous for its lush forests, frigid winters, and abundance of lakes, is the perfect place to try winter sports. Whether you're a thrill-seeker looking to zip down the slopes or a novice looking to enjoy a relaxing day on the ice, Michigan has you covered this winter. And, with so many accessible spots, you can create a winter experience that is safe and exciting.
In this article, we've listed some of the most adaptive winter sports in Michigan that'll bring out the adventurer in anyone. So bundle up, grab your gear, and get ready to experience the thrill of winter sports with us!
5 Accessible Winter Sports To Put On Your Michigan Bucket List
Gear Up for Adaptive Skiing
Skiing is an experience unlike any other. The thrill of gliding effortlessly over the snow, feeling the crisp air on your face and in your lungs as you go down the hill — it's truly magical. Located in northern Michigan, the Challenge Mountain Lodge and Ski Area offers a wide range of adaptive sports, including downhill skiing, bi-ski, snowboarding, and snow tubing, as well as adaptive lessons for skiers of all abilities from mid-January to March.
Similarly, if you live in or around the Detroit area, then you can take advantage of the DMC Rehabilitation Institute of Michigan's Adaptive Sports Program. The program offers a variety of clinics and lessons for individuals who are interested in trying out new sports. Even if you don't live near Detroit, you can rent a wheelchair-accessible van and head over to the DMC to partake in these activities.
Try Wheelchair Floor Hockey
For those who want to get some fresh air but don't necessarily want to brave the elements — or do anything more than stroll around on a frozen lake — wheelchair floor hockey is a great option that'll get your heart pumping and help you stay active during the long winter months.
Just like regular hockey, this adaptive game is played on an indoor rink, with players using their own wheelchairs as their playing equipment. The rules are also similar to traditional ice hockey, except that instead of a puck, players use a ball that has been modified to be easier to handle from a wheelchair. There are a number of teams throughout Michigan that you can look into joining.
Enjoy Adaptive Bowling
If you're looking for a fun, indoor winter activity that's easy on the wallet but also gives you an opportunity to get out of the house, try adaptive bowling. Located in Eastbrook Lanes, Kentwood Parks and Recreation center offers both recreational and competitive bowling leagues that'll give you an adrenaline rush and a chance to make new friends. At the end of the season, teams get to celebrate their success with a pizza party. Now that's what we call a win-win!
Like What you're reading? Subscribe to our Newsletter and get new updates directly to your inbox
Try Ice Fishing
If you're looking for a unique winter activity that will get you out of the house and into nature, then ice fishing is a perfect choice. There are many different ways to go about ice fishing, but regardless of which method you choose, there's no doubt that it can be an incredibly rewarding experience with the potential for some fantastic catches. With this winter sport, you'll be able to enjoy the beautiful scenery of snow-covered trees, mountains, and lakes while catching some delicious fresh fish.
Participate in Wheelchair Curling
Want to try out something more competitive than a leisurely game of bowling? Wheelchair curling may be right up your alley. Wheelchair curling is played on a standard size ice rink with four players on each team who use specially designed sleds that allow them to slide across the ice surface instead of walking. There is a range of different curling clubs around Michigan, including the Kalamazoo Curling Club and Detroit Curling Club that welcome new players with open arms. So bring your wheelchair and get ready to slide!
Unleash Your Inner Wild Child This Winter!
From low-impact activities like ice fishing to high-intensity options like downhill skiing, the Wolverine State offers a variety of ways to escape the winter blues. While some of the wheelchair-accessible winter sports in Michigan can be done from the comfort of your backyard, others may require you to trek out into the wilderness. 
If you want to travel from one point to another without worrying about carting around your wheelchair or transferring, consider purchasing or renting a wheelchair-accessible van from Clock Mobility. We offer a range of vehicles, including minivans and full-size vans. And all of our vehicles come equipped with features like hand controls, ramps, and lifts so that you can get around easily and take advantage of the great outdoors. 
Want to learn more about our wheelchair vans and rental services? Call us today to schedule an appointment or visit one of our locations in Michigan to test drive a vehicle. We look forward to helping you get around this winter — and every other season!
OTHER ARTICLES YOU MIGHT BE INTERESTED IN