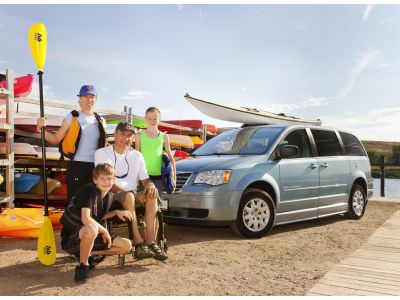 Make Mobility Easy
When you're living with a disability and need assistance getting where you need to go, Clock Mobility has all the best wheelchair lift options to assist. We carry only the best options for mobility solutions, and the wheelchair lifts that we offer are designed to give you a great experience getting to and from otherwise hard-to-reach places. With comfort and efficiency taken into account for each lift we carry, there is no better option in the mobility market than Clock Mobility.
Out and about
From effective wheelchair lifts that get you inside your vehicle to others that have more specific purposes, Clock Mobility carries lifts of all kinds to help those with physical limitations get out and about. From camping trips to operating heavy machinery, there is almost no limit to what Clock Mobility can do to help you out. Whether you need help getting to a job site or additional assistance for your outdoor camping trips, we can help with it all. Our customer's comfort and mobility are always our top concerns, so you can be sure that we will take care of you.
Around the house
Clock Mobility also provides a residential wheelchair lift so that you can always get where you need to go, including from your home. Our residential vertical lift platform gives homeowners with physical limitations the means necessary to get themselves out of the house and on the go. This allows them to go on walks and enjoy the day, get on their way to work, meet with others, and much more. Providing solutions to mobility difficulties is what we specialize in, whether on the go or at the home.
Using state-of-the-art mobility technology that is installed by state certified mechanics, you know that you can receive the best mobility solutions through Clock Mobility. Contact us today to learn about all the options and services we have to offer.