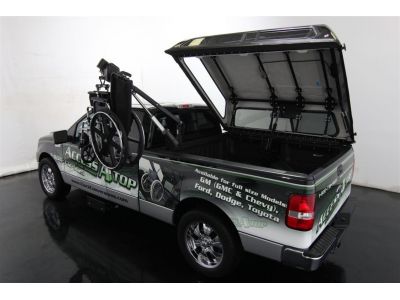 Make Life a Little Easier
For those looking to improve their family's mobility, there are many adaptive devices available to make travel and driving easier than ever before. Clock Mobility wheelchair lifts, turning seats, and AccessATop open a wide range of options for those with mobility issues. We don't ever want physical challenges to prevent independence.
Wheelchair lifts are essential to making a wheelchair user more independent. We install lifts that can load a wheelchair into the back of a minivan or full-size van, on top of a car, even onto a full-size truck bed. These lifts are used by family members and caregivers who want to load a wheelchair or scooter without a ramp, or by drivers who need to stow their equipment after they've moved into position on a turning seat themselves.
Turning seats are great for independent drivers and passengers too. Operated with either a hand pendant, or a manual lever, the seat can be in the driver's or passenger's seat in the front row, or in the second row too. Once the user is in position, the seat has flip-up armrests and a flip-down foot rest for comfort. They recline to allow headroom while you're passing through the doorframe. The safety features that come in a vehicle, like the factory seatbelt and airbags, are used, and turning seats can adapt to children's car seats as well. These chairs are as safe as the original seat in the vehicle and can be replaced with the original seat if you decide to sell the vehicle later.
AccessATop is perfect for those who want to drive a full-size truck. This is a great mobility solution. Wheelchair users get the comfort of a turning seat, a wheelchair lift, and the ability to drive a full-size truck for whatever application they're interested in. From the driver's seat, the click of a remote opens the cap on the back of the truck, a boom arm lowers the wheelchair or scooter, a Bruno Valet Seat pivots and comes down out of the truck, and when the transfer is complete the chair and lift themselves back into position for next time.
Adaptive equipment is available for everyone with physical challenges. Call a Clock Mobility representative today to explore your mobility options.