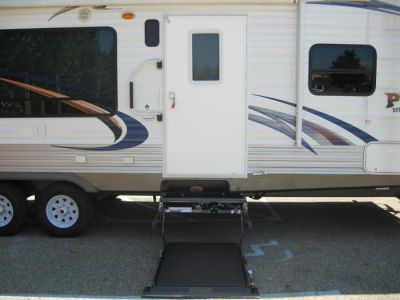 Time for Summer Fun
As the weather warms in Michigan once again, it's time to think about getting your recreational vehicles outfitted with adaptive equipment. The unique modifications available from Clock Mobility ensure you and your family that you can bring along everyone with ease and fully enjoy your vacation. We can work on almost anything that has a motor to make sure that your whole family is able to join in on the summer fun.
Simple to learn
If you use any of our accessible vans or have modifications to a large van of your own, then using the adaptive equipment we can equip to your motorhome is an easy adjustment. Our recreational vehicle and motorhome conversions are much like the conversions we do to our large vans, so you don't have to worry about learning how to operate new equipment. So, when you take your vacation, you can focus on relaxing and enjoying the time spent with your family.
Alterations are our specialty
There are many modifications we can make to ensure your trip is done in comfort. We can expand headroom and entry space in your motorhome and RV, add restraint and lift systems, as well as complex electronic controls. However, these are not the only changes to your recreational vehicle that we are capable of making. No matter what alterations you might need, Clock Mobility will work with you to make sure that your vehicle is customized in whatever way that you need.
With over 30 years of experience helping people face their unique physical challenges, Clock Mobility is ready to help you find your personal mobility solutions. With a desire to make sure everyone can enjoy a life free from limitations, Clock Mobility does everything possible to guarantee that when you need to travel, all your physical challenges are met.