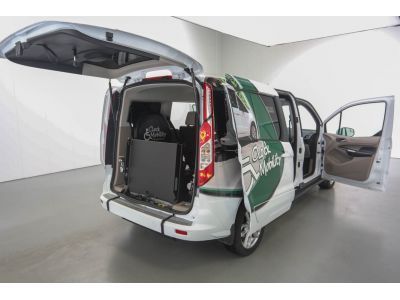 An exciting new addition to the world of accessible vehicles is the Ford Transit Connect. Economical, agile, and spacious, it is one of the best options for would-be drivers looking to take to the road. Whether you're concerned about fuel economy, room for passengers, or safety features, the Transit Connect has it all! In addition to this, its rock solid reliability makes it one of the most dependable vehicles on the road. In today's post, we're going to examine the benefits of this amazing vehicle.
Spacious
It may look small on the outside, but the Ford Transit Connect's appearance is misleading. Inside, it offers the cargo room of a van, allowing you to transport all the passengers, equipment, and supplies that your road trip needs.
Speed
With its compact design, the Ford Transit Connect packs quite a punch. Able to zip in, out, and upon highway lanes, city streets, and rural countrysides, the Transit Connect is an agile, speedy option that will provide you with the feel of driving a car while affording you the benefits of a traditional van.
Maneuverability
Aiming to make driving a breeze, the Transit Connect is the most maneuverable accessible vehicle on the market. With extremely tight, responsive controls, this mobility van is a joy to drive and dispels the notion that wheelchair vans are sluggish utility vehicles.
At Clock Mobility, we have years of experience helping our clients find just the right mobility van for them. Whether you're looking for a full-size handicap van, an economical minivan, or a responsive vehicle like the Transit Connect, we're confident that we can get you behind the wheel of the van that you've been looking for. So, if you've been considering purchasing a new accessible vehicle, contact us today to discuss how we can help.