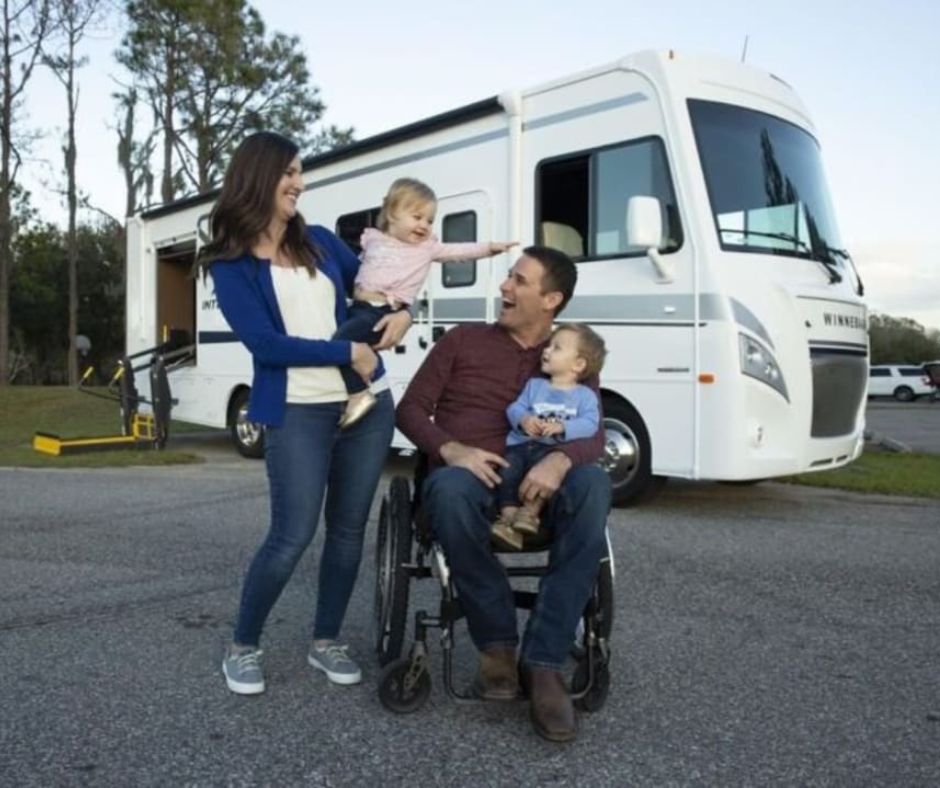 Whether you want to get away from home for a weekend or take off for an extended cross-country tour, RVs can help you with all types of adventures. With some conversions and adaptations, you can make your RV wheelchair-accessible and enjoy life on the road with all the comforts of home. In this guide, we'll discuss different types of RVs and will help you figure out what modifications are best for you to make your wheelchair accessible RV.
Different Types of RVs and Motorhomes
Below are the different types of RVs and motorhomes on the market right now:
Class A Motorhomes
Measuring 30 to 45 feet in length, Class A motorhomes are the largest, most luxurious, and most expensive type of RV. In these motorhomes, you'll find residential-style appliances, including a full-size refrigerator and stove, as well as a spacious shower with a bathtub. Many Class A motorhomes also have one or more slide-outs that extend into the living area, providing additional space for sleeping or relaxing.
These recreational vehicles also feature spacious storage compartments, allowing you to bring everything you need for your travels with you. Class A motorhomes are perfect for people who want to travel in style and comfort, but they are not the best choice for those who plan on camping frequently or spending time in remote locations.
Class B Motorhomes
Also known as camper vans, Class B motorhomes are usually built on van chassis. These motorhomes have less storage space than Class A motorhomes, but don't let their small size fool you. Measuring 20-25 in length, these motorhomes are equipped with everything you need for camping, including a kitchenette, swiveling toilet, and foldaway sinks. They also offer plenty of sleeping space, accommodating four to six people at a time. These motorhomes have impressive fuel efficiency, making them a great choice for cross-country tours.
Class C Motorhomes
Built on a truck chassis, Class C motorhomes have a "cab-over" profile and higher rooflines than Class B models. These RVs offer the same amenities as Class A motorhomes, including full bathroom facilities, a kitchen, and three slide-out rooms for sleeping. The only difference lies in the size and layout of the RV. 
Class C motorhomes are usually 21 to 40 feet long and can accommodate up to eight people at a time. Since these RVs are more compact than Class A models, they are easier to drive and park. This makes them a great choice for families who want more space than a Class B model, want to explore state park campsites, or don't have much experience with driving motorhomes.
How to Modify Your RV into a Wheelchair-accessible Van?
Now that you're familiar with the different types of RVs, you may be curious as to how you can modify your RV into a handicap-accessible motorhome. Below are some of the modifications that Clock Mobility can perform to make your motorhome wheelchair-accessible:
Wheelchair Lifts
Clock Mobility can make a wheelchair-accessible RV by installing a platform lift. As the name applies, platform lifts feature a wide platform that can accommodate a wheelchair and its occupant, allowing them to get into and out of a motorhome without any assistance. 
Platform lifts for RVs or motorhomes can be installed with their own entry door, eliminating the need to widen the existing door to accommodate a wheelchair. By contrast, the existing door can also be widened to accommodate a lift. The best thing about these lifts is that they fold up when not in use, so they're tucked safely away while you're on the road.
At Clock Mobility, we often use the BraunAbility UVL private lift or the Braun Millennium private lift in our motorhome conversions. The maximum lifting capacity for both of these models is 800lbs., which accommodates a wide range of wheelchairs. For larger wheelchairs, we can also install a commercial lift with a 1,000 lb. lifting capacity.
Wheelchair Restraints
While traveling long distances, it's important to equip your RV with the right safety features to enjoy your trip safely. One of the most important safety features is the wheelchair restraint system. 
Regarding this mobility conversion, you can choose between Q'Straint® and Sure-LokTM. Both offer four-point tie-down securement systems with flush-mounted floor pocket inserts and a non-retractable shoulder belt, providing maximum stability during minor braking and sudden stops. Whichever restraint system you choose will allow a wheelchair user to ride safely in a motorhome while remaining seated in their wheelchair.
Driving Aids
From hand controls, electronic steering devices, and quadriplegic driving systems to smart parking sensors and touchpad controls, there is plenty of cutting-edge driving equipment available to make it easy for anyone to get behind the wheel. 
Remember that Michigan State Law requires you to obtain a prescription from a driver rehabilitation specialist to have certain driving aids, like hand controls, installed in your vehicle.
Layout and Bathroom Modifications
Clock Mobility can also modify the layout of your motorhome to make it easier to navigate a wheelchair through. Depending on your RV's floor plan, this could include widening hallways, readjusting storage/kitchen areas, etc.
Additionally, we can also modify an RV bathroom to include things like grab bars on either side of the toilet or a shower seat. We can also add handrails throughout your rig for extra safety and support. 
With a range of easy-to-use adaptive equipment and a knowledgeable team, Clock Mobility can help you safely modify your motorhome to make it wheelchair accessible. 
To take advantage of our customization services, simply fill out our contact form to schedule an appointment with one of our mobility specialists. We can help you with both wheelchair-accessible rentals and conversions, including motorhome and RV modifications. You can also call us at 866-380-3308 or visit one of our Michigan locations.
OTHER ARTICLES YOU MIGHT BE INTERESTED IN