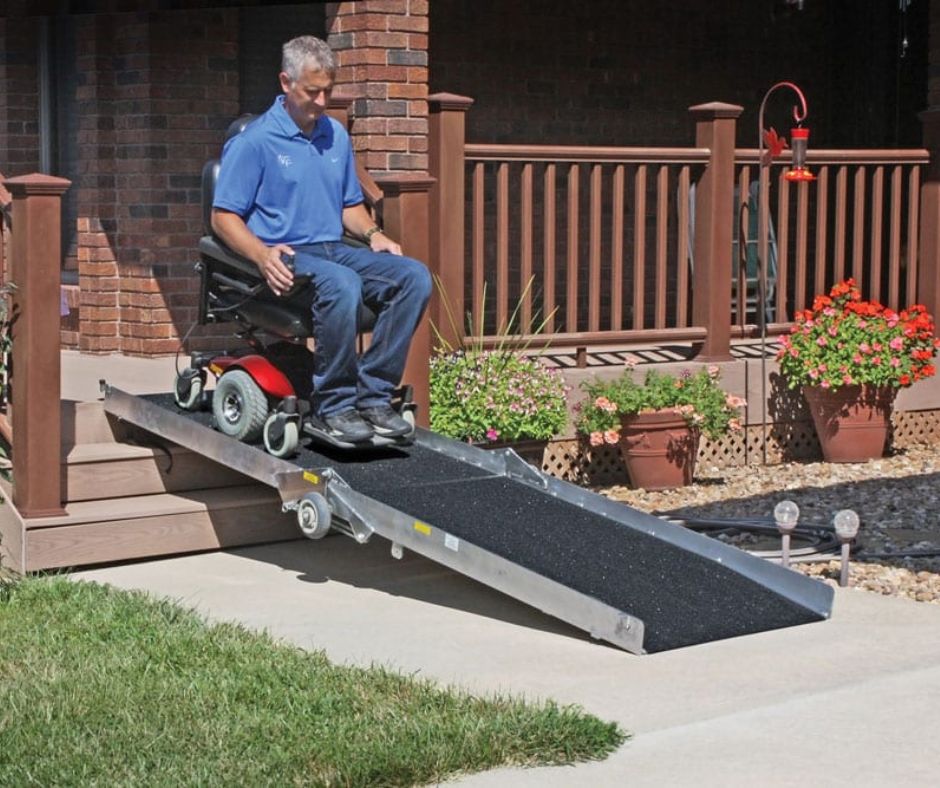 Looking for a way to make your home or office more accessible? PVI Manufacturing's ramps are a great way to make accessing a building easier for those who use scooters, wheelchairs, or walkers. At Clock Mobility, we offer a wide range of PVI ramps in Michigan and are happy to help you find the best portable wheelchair ramp for your needs.
All PVI Ramps offer:
Limited Lifetime Warranty

Excellent stability

Durable welded construction

Anti-slip, high-traction surfaces
The ability to accommodate wheelchairs and scooters with various wheel configurations

Safety DVD and steel security pins (if applicable)

3X safety factor testing
PVI Multifold Ramp
This ramp separates easily into two separate pieces, making it easy to transport without being cumbersome. When it's time to put the ramp together, a rotating pin can be used to lock/unlock the two sides of the ramp together without the use of any extra tools. When not in use, the two pieces unlock and fold in half with the help of a closure strap, making carrying them as easy as carrying a suitcase.
With models varying from 34 to 76 lbs, PVI's multifold ramps are lightweight. The full platform offers stability, and the welded construction offers top-of-the-line durability. These ramps come complete with an anti-slip, high traction surface and a safety guide to ensure your ramp is safely placed on a slope. Multifold ramps offer an 800 lb. capacity.
PVI Multifold Reach Ramp
The multifold reach ramps come with all of the safety features of PVI's standard multifold ramps. It also features an extended hook that allows it to clear the rear bumper of a vehicle and red straps to attach it safely to the back of a tailgate. It features the same durable design and locking safety pins, making it just as easy to transport as a standard multifold ramp. Multifold reach ramps are ideal for users who need to load a wheelchair or scooter into the rear of a vehicle with a large bumper or extended tailgate. Multifold reach ramps offer an 800 lb. capacity.
PVI Singlefold Ramp
If you're in need of a smaller ramp for tight spaces or to place over 1-2 steps, the singlefold ramp might be the right choice. Ranging in length from two to six feet, singlefold ramps typically weigh between 10 and 33 lbs., making them extremely easy to pick up and carry. They fold neatly in half when not in use and can easily be stored in the back of a vehicle if need be. Singlefold ramps offer an 800 lb. capacity.
PVI Solid Ramp
If you're not in need of a ramp that folds up, the solid ramp is a perfect choice. It's lightweight, easy to store, and provides ideal stability for all wheelchair and scooter configurations. Solid ramps are available in three, four, and five foot lengths and can easily be stored in a vehicle, closet, or even against a wall. Solid ramps offer an 800 lb. capacity.
Like What you're reading? Subscribe to our Newsletter and get new updates directly to your inbox
PVI Wheel-a-Bout Ramp
Sometimes, a longer ramp is required to help wheelchair and scooter users transition over a series of steps or down a steep slope. The wheel-a-about ramp is a longer-style ramp, ranging from between 12 and 12 feet in length. Closure straps are used to lock the ramp panels together, keeping it safe and sturdy when in use. When you're done using it, the ramp folds in half, which allows it to be wheeled out of the way and stored upright until it's needed again. Wheel-a-bout ramps offer a 600 lb. weight capacity.
PVI Threshold Ramp
Thresholds can be one of the trickiest parts of navigating a wheelchair or scooter. Threshold ramps are perfect for these situations, as they make it easy for a mobility device to get up and over a door threshold with ease. Threshold ramps come with holes punched in the top corners, so installation is as simple as attaching the ramp to your doorway with screws. Additionally, self-supporting threshold ramps align directly against the threshold of your door, making the transition from one room to another seamless. Threshold ramps come in a variety of lengths and can support between 300 and 800 lbs., depending on the model selected.
PVI Elev8 Adjustable Ramp
The Elev8 Adjustable Ramp is specifically designed to align directly against a doorframe and can be used for doors that swing in or out. Adjustable legs allow you to fine tune the perfect height for your ramp/doorway combo. These ramps are made with slip resistant, grooved aluminum and come in a variety of widths and lengths. All Elev8 Adjustable Ramps offer a 800 lb. weight capacity.
PVI OnTrac Ramp
These ramps are an ideal solution for longer sets of stairways or for individuals who do not require a portable ramp. PVI OnTrac Ramps are all 36" wide and can be ordered in a variety of lengths ranging from three feet to ten feet. They come complete with a handrail and a slip resistant surface for safety. OnTrac Ramps can be easily installed in minutes and offer a 850 lb. weight capacity.
PVI Modular XP Ramp Systems
PVI Modular XP Ramp Systems are perfect for those who need a ramp that will sit flush with a landing area. They are 36" wide and can be ordered in 3-4 foot sections. Ramp panels can be combined to increase the overall length of the ramp. PVI Modular XP Ramp Systems also features 45° and 60° platforms to use as landing areas and can be configured to fit almost any situation. ADA handrail extensions, stairs, and gates are also available at an additional cost. Modular XP Ramps offer a weight capacity of 100 lbs. per square foot.
OTHER ARTICLES YOU MIGHT BE INTERESTED IN