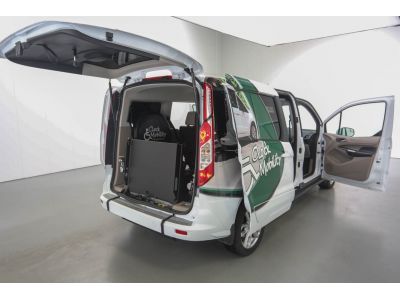 One of the newest entries in the accessible vehicle scene is the Ford Transit Connect. Offering an amazing balance between accessibility, maneuverability and economy, the Ford Transit Connect is a great option for anyone looking to get out of the house, hit the road and explore the world around them. In this post, we're going to look at a few of the amazing advantages of driving the Ford Transit Connect.
Interior room
Don't let its exterior size fool you: the Ford Transit Connect is one of the roomiest handicap vans available. With the cargo room of a van and the "feel" of a car, the vehicle is an amazing, compromise-free way to experience the open road.
Fuel efficiency
Boasting extremely high fuel economy, the Ford Transit Connect isn't just a fun option, it's an affordable one! Don't fall for the misconception that a road trip has to be expensive: grab a map, get yourself behind the wheel of the Ford Transit Connect and see just how far a single tank will get you!
Agility
As they say, it's not always about the destination, it's about the journey. The Ford Transit Connect aims to make that journey as memorable as possible. With tight, agile controls, the vehicle is a joy to drive and dispenses with the myth that driving a wheelchair van has to be a slow, challenging experience.
At Clock Mobility, we have over thirty years of experience in understanding our clientele. Dedicated to meeting the needs of a range of clients, we offer Southwest Michigan's most diverse line of mobility vans. Whether you've been looking for a full size handicap van or a mini van, we're confident that we've got just the model that you're looking for so, don't wait, contact us today!