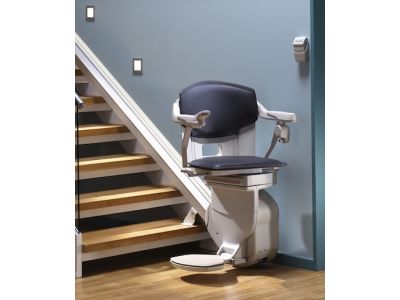 The Best of Bruno
We understand that mobility isn't just about wheelchair-accessible vehicles. Sometimes the only thing standing between you and your mobility is a simple stairlift. At Clock Mobility, we're proud to carry Bruno Residential Stairlifts. Offering some of the industry's best residential stairlifts, Bruno's products provide our customers with the assistance that they need at home. Stairlifts have plenty of benefits, such as:
They Offer Increased Independence
Countless people find their mobility limited by stairs on a daily basis. From the difficulty of the ascent to the potential catastrophe of a fall, climbing stairs can be a challenging, and at times impossible, task. Bruno's stairlifts remove these fears, providing the confidence that you need to navigate your home without worry.
They're Safe
Did you know that most falls happen in a person's home? Even one missed step or stumble can result in a break, dislocation, or worse. A stairlift offers a safe way to move between different levels of your home, especially if you suffer from balance or usability issues. Bruno Residential Stairlifts can prevent dangerous situations, create a greater sense of safety and, most importantly, allow you to feel secure in your home.
They're Easy to Use
Using your Bruno stairlift is as easy as sitting down, buckling yourself in, and pressing a button. In just a few seconds, you'll be on your way up and on your way. After your ride is over, simply let go of the button or switch and the lift will stop moving. It's that simple!
They're Comfortable
Bruno stairlifts are highly customizable. You can choose from different sized cushions as well as different upholstery colors. They also offer padded seats, backs, and armrests. In addition to providing a comfy place to sit, Bruno stairlifts also provide the user with a smooth ride with no jerks or sudden stops.
They Make Aging in Place Easier
If your stairs are the only thing separating you from your mobility independence, a stairlift is easily the quickest way to solve the problem. Why move or reconfigure your house when you can simply have a Bruno stairlift installed by Clock Mobility? Stairlifts are also very affordable compared to other solutions. Most stairlift models start at around $3,500.
They're a Convenient Short-Term Solution
Stairlifts are the perfect solution if your mobility is going to be limited for a short period of time. For example, if you're having surgery, healing from an injury, or are going through physical therapy, a stairlift can help you navigate your short-term mobility issues with ease.
They're Versatile
Whether you need an indoor stairlift, an outdoor stairlift, a straight stairlift, or a curved stairlift, Bruno manufactures a model for you. Regardless of your home's layout and design, a working, functional solution can be implemented in your home.
At Clock Mobility, we want our customers to feel safe on the road and in their homes. If you've been looking for a way to make your home safer and easier to navigate, contact us today to find out how we can help!