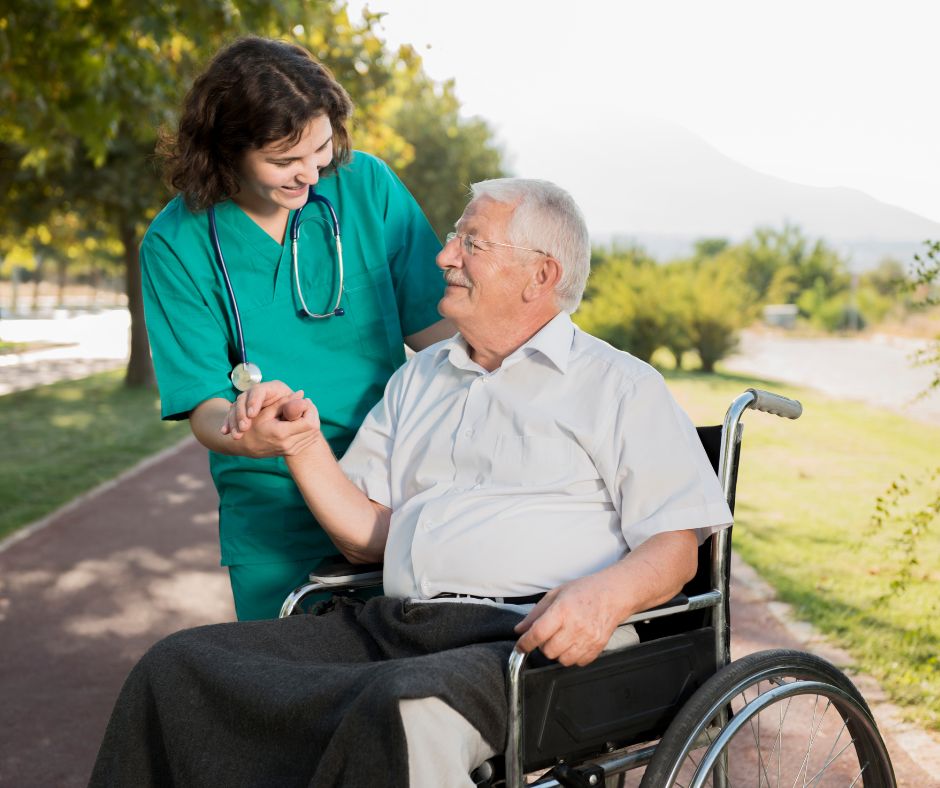 As a caregiver, you're always on call. From getting up in the middle of the night to provide your loved one with a glass of water to ensure they're comfortable and safe while traveling to and from appointments, you're constantly focused on their well-being. But no matter how dedicated you are, the physical demands of caregiving can take a toll on your body and limit your ability to provide the best care possible. 
That's where caregiving tools for mobility come into play. By using mobility aids, assistive devices, and transportation services, caregivers can provide their loved ones with the support they need while taking some of the load off their own shoulders. But what are some essential mobility tools and equipment in caregiving? And how can you use them most effectively? Let's take a look.
Mobility Tools To Empower Caregivers
Below are some of the most reliable caregiver mobility aids that'll improve the quality of life for both caregivers and recipients.
Rollator Walker
If your loved one is mobile but needs some assistance with balance, a rollator is a great option. Available in three-and four-wheel configurations, rollators are a good stand-in for canes and traditional walkers. These mobility aids provide stability and support for individuals who need assistance with walking while also offering a convenient storage option for personal belongings. 
Unlike walkers, they feature a padded seat that makes them more comfortable to sit on — especially for those with hips or back issues. Most models even come with adjustable handlebars, making it easy to push and maneuver the device without having to bend over. Before buying, it's crucial to take  the rollator's width, overall weight, weight-bearing capacity, and height restrictions into account.
Entry Ramps
Entry ramps are another essential tool for caregivers who may struggle with carrying their loved ones up and down the steps or accessing their homes. They are designed to provide a safe, convenient, and easy way to enter and exit buildings while reducing the risk of falls and injuries for both the user and caregivers.
Entry ramps come in various styles, including permanent, portable, and foldable models. Often installed on the front porch or at the bottom of the steps inside the home, permanent entry ramps are often made of aluminum or steel and can be customized to fit any door height, width, and length. 
Folding/portable entry ramps feature an accordion design that allows them to be easily folded up for storage when not in use. These ramps are ideal for locations with two steps or a rise of 15 inches or less.
Whatever model you choose, make sure it is ADA-compliant, made from high-quality materials, and features a grip strip to prevent slipping. Clock Mobility offers a wide variety of entry ramps from PVI Manufacturing to suit nearly any need.
Transfer Boards
Transferring a person can be physically demanding for the caregiver, especially if the user has limited mobility. Transfer boards can help reduce the strain on the caregiver's back, arms, and legs by allowing them to slide the user across the board instead of lifting them.
As the name implies, a transfer board features a stable surface and handles on either side to move a person in one smooth motion without losing balance. This can be especially helpful when the user needs to be moved frequently or quickly, such as during a medical emergency. 
Gait Belts
Also known as ambulation belts, gait belts are used to assist users during transfers, standing, or walking exercises. These belts go around the waist and have adjustable loops that can be tightened for extra support. Gait belts offer various benefits, including:
Providing a secure connection to the user's upper body and waistline

Reducing the risk of falls and other injuries

Improving balance and coordination in users with neurological conditions such as Parkinson's disease or multiple sclerosis
Like What you're reading? Subscribe to our Newsletter and get new updates directly to your inbox
Adjustable Beds
Adjustable beds can be a great investment for caregivers who assist bed-bound individuals frequently. With the ability to adjust the bed's position, caregivers can help the users get it up or lie down with minimal strain on their own bodies, reducing the risk of injury for everyone. 
Adjustable beds also come with many accessories that make it possible for someone who has difficulty getting out of bed to still do so, including full-length side rails for safety and security, bed handles for easy gripping, and swing-away footboards for easy access to the floor. Some adjustable beds also come with remote control, making it possible for users with limited mobility to adjust their position without assistance.
Stairlifts
For those who live in a multi-level home or have to climb stairs frequently, a stairlift serves as a great mobility tool. Residential stairlifts feature a motorized chair that can help an individual travel up and down stairs with ease. Additionally, it can provide a much-needed break for caregivers who may be struggling to lift and carry their loved ones. The best part? It's powered by an electric motor, which means it doesn't require any manual effort from the user.
Bathroom Safety Equipment
For any caregiver, the bathroom is a room that poses many challenges. Luckily, there are a number of tools that can improve safety and accessibility:
A shower seat with suction cups will provide support and stability while your loved one bathes, reducing the risk of slips and falls.

A hand-held shower head allows you direct water flow more easily.

A roll-in shower can also make bathing easier, especially for people with limited mobility. These showers are designed with a low threshold and wide door that allows your loved one to roll or walk into the shower on their own.

Grab bars are sturdy bars that are mounted on the walls near the toilet, shower, or bathtub to provide support and increase stability when entering or exiting these areas.

Non-slip floor mats provide traction on the bathroom floor to reduce the chances of slips and fall.
Wheelchair-Accessible Vehicles
When you're in charge of transporting your loved one to and from doctor appointments, grocery shopping trips, or even just a quick trip to the mall, having a car that's wheelchair-friendly is vital. Wheelchair vans can save you precious time and energy when transporting and transferring your care recipient.
Clock Mobility has a wide range of wheelchair-accessible vehicles that can make it easier for you to get around town. We offer a variety of models from top brands like Chrysler and Toyota. All our wheelchair-accessible vehicles come with state-of-the-art accessible modifications, including wheelchair tie-downs, in-vehicle ramps, and more, providing maximum convenience and functionality. For more information about our fleet, contact us at (866) 630-0577 or visit one of our locations in Michigan!
OTHER ARTICLES YOU MIGHT BE INTERESTED IN