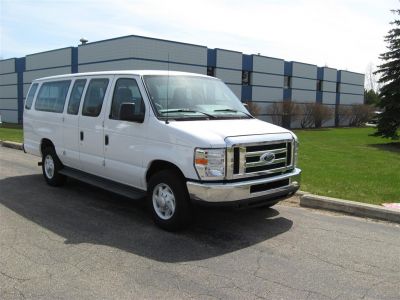 We Offer Commercial Conversion Vans
Municipalities, hospitals, and nursing homes rely on us to build their ADA compliant paratransit mobility vehicles. We convert minivans, full size vans and buses for the unique needs of paratransit users. For people with disabilities, paratransit vehicles are often the best supplement to fixed-route bus and rail systems by public transit and other agencies. These vehicles need to meet the needs of a diverse group of users, including those in a variety of wheelchair types and their companions or caregivers.
Details of Conversions: Paratransit conversions are made with enough flexibility so that a diverse group of riders can comfortably use the vehicle. Depending on the size of the vehicle, we can install lifts on the side or the back, raise the roof and/or lower the floor to increase headroom and make entry and exit easier. Once inside, we've got multiple floorplans to accommodate wheelchair users and their ambulatory passengers.
Paratransit Benefits Communities: Paratransit mobility vehicles allow public transportation providers to service a greater number of people with mobility issues; for those who can't access fixed route systems, paratransit buses get community members to their jobs, doctor's office, and social events.  Communities can tap into a larger workforce, both for those with temporary and permanent disabilities.
Beyond public transportation authorities, we are also contacted by hospitals and nursing homes for help with conversions for paratransit mobility vehicles. We meet the unique needs of these organizations to transport clients with mobility issues with our high standards and attention to detail. Known throughout the mobility vehicle community, we know that we have the ability to design and convert a range of vehicles, whether you need a single vehicle or a fleet with a higher seating capacity. Contact us with your questions, we're looking forward to hearing about your paratransit mobility needs.