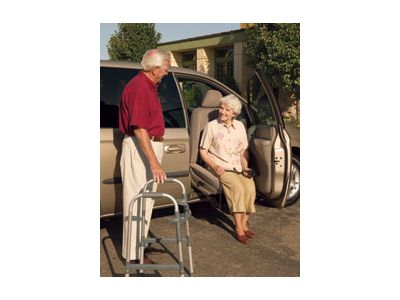 A factor that we take for granted in the United States involves the use of an automobile to get from one place to another. Those in wheelchairs now have a great way to gain mobility and independence because of the advancements in wheelchair vans and wheelchair lifts. One of the most exciting advancements in vehicle modifications is taking place in wheelchair accessible modifications. Wheelchair accessible vans and automobiles must all have certain features which make them readily usable.
One of the most important of these features is the wheelchair lift. The wheelchair and scooter lifts are so important because they are the components that allow the wheelchair user to access the can without outside assistance. The importance of this cannot be overstated, because it is this feature which makes wheelchair accessible vans the symbol of mobility and independence. There is such a huge difference between the wheelchair accessible vehicles that have automatic lift and those that don't. The wheelchair lift means complete control over the lifting and vehicle entry process.
There are a few different types of wheelchair lifts that are specific to a certain job at hand. The first type of vehicle lift is a front seat that is actually affixed to the car that can be automatically raised or lowered to assist a wheelchair user or someone with a limited range of motion get into and out of a vehicle. This is not truly a lift, but can be very useful for someone with a slight mobility problem. These usually also require an additional loading device that can be used with or without additional assistance. The true lifts are almost always used in conjunction with wheelchair or handicap vans. These lifts utilize the sliding side door or a rear entry to the van in order to access the interior. The lifts are made of a wide variety of materials.
First, there are standard lifts used for single family vans. These are high-quality and durable, though they are not built to withstand exactly the same rigorous conditions as one might find in a commercial van. The single family lifts are usually side entry and are stored in the interior for later use. The commercial lifts are made of more durable material, but are generally stored on the exterior of a van, so they also will usually require modifications in van floor height and roof height. No matter what type of lift or loader that a wheelchair user decides on, they can be sure to expect increased mobility and independence with the benefit of lifts on wheelchair vans.