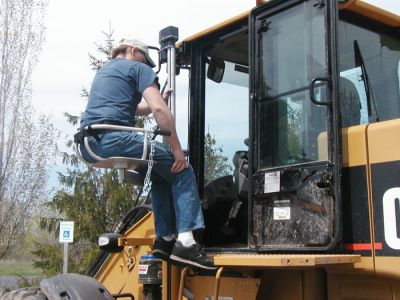 Accessible Modifications at Work
At Clock Mobility we know that creating mobility and independence in the work environment is crucial to a fulfilling lifestyle. As much as we might groan about our jobs, losing the ability to do them is unacceptable. Our occupations provide us with a sense of purpose as well as an income. If you've had a change in your mobility and are looking for the right vehicle modifications to remove barriers to getting back to work, we have the experience to get you back on the job. If regaining your independence involves using a motor – give us a call.
Vehicle Modifications
We help individuals succeed in the work environment with vehicle modifications for cars, minivans, and trucks. If you're ready to get back behind the wheel we can help with loader and lift devices, including wheelchair storage without assistance. Our driving aids include controls for the gas and brake pedal, electronics, left foot accelerators, and accelerators. We customize each vehicle for the unique needs of each client.
Specialty Vehicles
We aren't kidding when we say we do a high level of custom conversions. We have handled unique modifications that involve farm equipment and industrial applications as well as semi-trailer interiors. These have been as straightforward as chair lifts on a small tractor to operation control modifications on industrial wheel loaders. We also have a growing number of clients who want us to work on their semi-truck interior. These range from mechanical gas and brake pedal levers, steering wheel column adjustments, or a touch screen driving interface.
We are always up for a new challenge. If you have a vehicle not listed above we'd love to meet with you to plan a custom conversion that meets your needs. Contact us to get started.